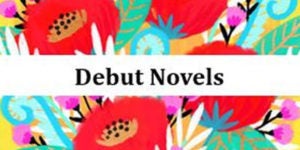 The best debut novels I read in 2019 were an epiphany for me. I had planned to finish and post this list five days ago on the calendar date of Epiphany to honor them. Alas, life got in the way. Back to that epiphany thought though, an epiphany is an "Aha!" moment. As a literary device, epiphany is the moment when a character is suddenly struck with a life-changing realization changing the rest of the story. It often begins with an ordinary occurrence or experience. Barely any of the novels on this list began with ordinary occurrences or experiences, but every one of them featured events that changed the characters' lives and thus changed their stories. In each of these books, there was a spot where I held my breath, a place where tears fell, a time when an insight almost knocked me over, or a predicament that had me wanting to scream at a character. Every one of these books presented me with my own "Aha!" moment. May they do the same for you. All but three of these novels were featured on my "Best Novels" or "Best Mysteries" lists. I repeat them here to highlight the beauty of reading debut novels. I love them because they contain the heart and soul of the author. I adore them even though they sometimes contain flaws because the writer puts so much of him or herself in them that the novels overcome any slight imperfections.
The Best Debut Novels of 2019
Bearskin
by James McLaughlin (2018)
Degrees of Difficulty by Julie E. Justicz

The Gone Dead by Chanelle Benz

Lights All Night Long by Lydia Fitzpatrick
Miracle Creek by Angie Kim

Optic Nerve by Maria Gainza
The Seven or Eight Deaths of Stella Fortuna by Juliet Grames
Songbirds and Stray Dogs by Meaghan Lucas
Bearskin
by James McLaughlin
Bearskin,
the winner of the 2019 Edgar for Best First Novel, is a searingly tight thriller. Rice Moore is the new biologist/caretaker on a massive old-growth preserve in southwest Virginia's Appalachian region. He's hiding from players in a Mexican drug cartel and he's not your usual caretaker. When poachers begin killing bears to sell their gallbladders and paws to world markets, he learns that the young woman who was the previous caretaker was raped and left for dead. The folks in the woods of Virginia are proving to be as deadly as those on the border and he has to take care. This is both a gorgeously told nature saga and an intriguing view of the multi-dimensional characters who populate the area. If you loved the lush ecological tension of Where the Crawdads Sing but weren't as impressed with the rest of that novel, Bearskin is the right book for you. If you adored Crawdads, you'll still enjoy Bearskin. G/SN, BC (2018)
Degrees of Difficulty by Julie E. Justicz
Degrees of Difficulty
is a debut novel that asks insightful questions about surviving when one is thrust into a devastating situation requiring reserves of determination to handle the never-anticipated responsibility.
It's a novel about love, forgiveness, loyalty, family, responsibility, and redemption. It's a novel that will make you understand that it isn't the cards we're dealt that matter; what matters is taking pain and twisting it, shaping it, transcending it. The novel explores the excruciating difficulty of caring for a nonverbal, profoundly handicapped child and the effects on the family of that child.
it's a hope-filled, humor-laced, page-turner of a novel that this reader devoured in one day. Two readers have reported that their book clubs loved discussing it. Read the full review here. GPR/SF/SN, BC
The Gone Dead by Chanelle Benz
The Gone Dead
is both an enthralling thriller and a soulfully lyrical novel that explores racial tensions in the Mississippi delta. Billie James' return to the town where her poet father died when she was four turns deadly when she starts asking questions. The Gone Dead feels like a marriage of Jesmyn Ward's Salvage the Bones and Greg Iles' Natchez Burning trilogy. Exquisite pacing, characters with distinct and true voices, and a sense of urgency underscore Benz's remarkable talent for bringing themes of justice, loss, and lack of hope to light. It's difficult to believe that this is a debut novel. Benz's success with multiple points of view makes this reader want to dive into her short stories. G/GPR/GS, BC
Lights All Night Long by Lydia
Fitzpatrick
Lights All Night Long
combines gorgeous language, a compelling story, a mystery, AND captivating characters. Ilya, the smartest kid in his small Russian refinery town, is going to spend a year in high school in a refinery town in Louisiana, but he can't stop thinking of ways to help his older brother who's in prison for confessing to a crime Ilya knows Vladimir didn't commit. Like the lights that burn all night long in the town, this novel allows the light to break through. The last pages are a pure gift filled with love and wonder. It's hard to believe that this is a debut. Read the full review here. G/GPR, SN, BC
Miracle Creek by Angie Kim
Miracle Creek
is a courtroom drama featuring Korean immigrants in Miracle Creek, VA where they have a hyperbaric oxygen therapy center (HBOT) they call the Miracle Submarine. Clients sealed in the HBOT breathe pure oxygen to cure autism, infertility and other problems. When the book opens, two people have died and four have been seriously injured when the capsule burned. The mother of an autistic boy who died is charged with his murder, but so much more happens. Immigration, loyalty, family, and morality are on view in this page-turner. CC/SN, BC
Optic Nerve
by Maria Gainza
Optic Nerve
is both a novel and a course in art history that follows an unnamed Argentinian woman through the lives and works of illustrious painters. The narrator visualizes life and culture via Toulouse-Lautrec, Rothko, Courbet, Rousseau, Foujita, and El Greco. This short, inventive novel offers much to ponder and the last chapter is exquisite. I keep reading pages of it aloud and sighing. It makes me wonder how many other great international works, we English speakers miss. This was published in 2014 but not translated into English until this year. Thanks to Publishers Weekly for selecting it as a 2019 Top 10 book. I'd have overlooked it otherwise. G/SBP/SN, BC
The Seven or Eight Deaths of Stella Fortuna
by Juliet Grames
The Seven or Eight Deaths of Stella Fortuna
traces Stella's life from a small Calabrian village to the U.S. over 100 years in which she survives seven or eight near-death experiences. This family saga of secrets and Italian-American traditions and superstitions illustrates the effects of patriarchy on family love and rivalry. That this is a debut novel is surprising because of its depth, descriptions, character studies, and voice. I loved the humor and the use of food as a metaphor. The gorgeous cover will lead you to a great read. GPR/PP/SN, BC
Songbirds & Stray Dogs
is an evocative and suspense-filled portrayal of small-town secrets and the difficulty of escaping expectations. Jolene arrives in a quiet western North Carolina town pregnant and in need of a job. Chuck is searching for his addict sister and caring for her teen son when he's threatened by one of his sister's unsavory acquaintances. The ending of this debut rings true and while sad, it offers hope. Jolene, Chuck and the book's minor characters are engaging and realistic. I fell head-over-heels in love with the characters in this novel and yes, I yelled out loud at them when I feared they might make harmful choices. If you love Wiley Cash and Southern Gothic, you'll adore this one. Read this book. GPS/GS, BC