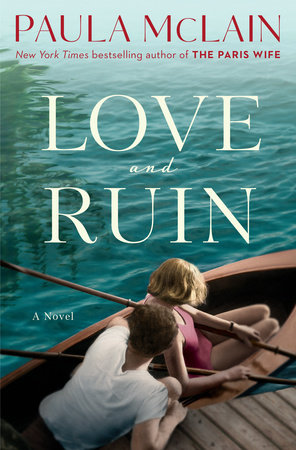 Paula McLain captured the world's attention with The Paris Wife, her novel about Ernest Hemingway and his first wife Hadley. She mined gold in her exceptional portrait of Beryl Markham in Circling the Sun. She's returned to Hemingway and this time portrays his third wife, journalist and author Martha Gellhorn. Gellhorn met Hemingway in Key West then covered the Spanish Civil War alongside him in Spain in 1937 where they fell in love. They moved to Cuba where they restored a villa and created a writing life together. During this time Hemingway published For Whom the Bell Tolls and became as famous as his novels. While in Cuba, Martha worked on her own novel while yearning to return to her journalistic roots. Living in Hemingway's shadow wasn't an existence she could always reconcile with ease.
"I have these other sides of me, too, and I'm not always sure how they fit together or even if they can. I want to be passionate about things and feed my mind and travel the world. I'd rather be darkly and dangerously happy, like living on a knife's edge, than lose my way and forget my nature."


Love and Ruin is a sensitive, yet exhilarating view of the couple's life together. It shows how much they loved each other and wanted to make a complete life together. It also highlights how their passion for their writing and his depression and drinking led to periods of ruin that threatened and eventually led to the end of their marriage.
While the novel focuses on Gellhorn and Hemingway's life together, it's most compelling when it illuminates Gellhorn's remarkable achievements. The work she did highlighting the effects of the Great Depression on ordinary Americans, which led to her friendship with Eleanor Roosevelt when she was just twenty-five, helps the reader understand that Gellhorn was already a successful journalist and writer before she met Hemingway.
Reading about Martha Gellhorn disguising herself as a stretcher-bearer and going ashore during the D-Day landing at Omaha Beach, where she was reported to be the only woman among the 150,000 men on that beach, offered a fascinating view of what women journalists faced in the 1940s. The glimpses of Gellhorn's career as a war correspondent and her interest
in and compassion for the stories of the people she met were the most fascinating aspects of the novel. McLain captures Hemingway's drinking, depression, brilliance, and pettiness so well that I sometimes found myself wanting to escape him for Gellhorn's more exciting activities. Still, I appreciated McLain's ability to tell both their stories and to reflect the truth of their lives and their relationship.
Summing it Up: Read Love and Ruin to learn the remarkable story of journalist and war correspondent Martha Gellhorn. Enter the lives of Gellhorn and Ernest Hemingway as they fall passionately in love and watch them as they learn to live and love together. Gellhorn led a remarkable life and this novel illustrates it well.
After you read the novel, visit McLain's website to view photographs of Gellhorn and Hemingway's time together.
A personal note: I was particularly intrigued by Gellhorn's work as a journalist and war correspondent for Collier's magazine in the 1930s and 40s. At the time, my great uncle was President and Publisher of Collier's. In the spring of 1939 my mother, then seventeen, accompanied her aunt and uncle on a two-month trip to London and Paris to keep her aunt company while her uncle presided over almost daily meetings between the Duke of Windsor and author Sax Rohmer, who was interviewing the former king to write his story for Collier's. The following year as Martha Gellhorn wrote for Collier's, my mother started her freshman year at Sarah Lawrence College and frequently visited her aunt and uncle at their nearby home in Bronxville, N.Y. In my imagination, my mother might have met Gellhorn when she came through the city. My mother's stories of her European trip and of her year at Sarah Lawrence, often visited me as I read Love and Ruin.
Category: Fiction, Pigeon Pie, Grandma's Pot Roast, Super Nutrition, Book Club
Publication date: May 1, 2018
"Wonderfully evocative. . . . [Paula] McLain's fans will not be disappointed; this is historical fiction at its best, and today's female readers will be encouraged by Martha, who refuses to be silenced or limited in a time that was harshly repressive for women."—Library Journal (starred review)