There's nothing better than a Young Adult title when you want a quick immersion into a book that makes you think. The novels on this list will appeal to adults as well as teens. Read any one of these books, give it to a teen you love, then talk (and listen). Almost everything that scares you about the state of the world, is covered in young adult literature. If you want to understand topics that frighten you, read young adult books.
The Best YA Novel of 2017 (It's a three-way tie):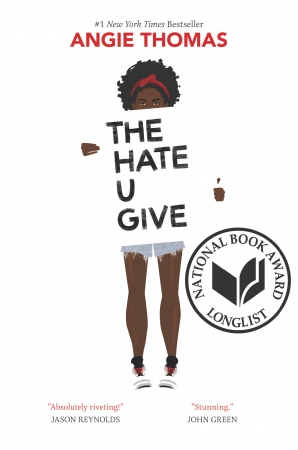 The Hate U Give by Angie Thomas
The Hate U Give
is a riveting glimpse at today's world where young African-Americans lose their lives in senseless police shootings. Sixteen-year-old Starr watches as a policeman shoots her friend. She can't figure out how to survive in two separate worlds – the impoverished area where she lives and the elite suburban prep school she attends. If you want to understand the Black Lives Matter movement, read this. The novel's title comes from a Tupac acronym for "thug life" meaning "The Hate U Give Little Infants, F---s Everybody." This would be the perfect companion to All American Boys by Jason Reynolds and Brandon Kiely.

DC/SN, BC Ages 13 and up
Long Way Down
by Jason Reynolds
Long Way Down
begins when fifteen-year-old Will's brother Shawn is killed and Will feels like "the ground opened up and ate him." Most of the book takes place in the sixty-seven seconds after Will finds Shawn's gun then rides the elevator downstairs while deciding whether to murder Shawn's killer as he encounters ghosts from his life on each floor. Told in dazzling, staccato free verse, this book will help you comprehend teen gun violence. Listen to the author read it for even more of an impact. I listened to it and read it and gained from both experiences.
Turtles All the Way Down
by John Green
Turtles All the Way Down
explores teen anxiety like nothing I've ever read. Thankfully, John Green has written a novel that teens will read just because he wrote it and that many teens, parents, teachers, and mental health professionals will find to be a lifesaver. Aza has thoughts that she can't control. She knows that thoughts are not actions, but that doesn't help on bad days. Aza's friend Daisy loves Aza and her spirit. When a billionaire disappears, Aza and Daisy decide to seek the reward using Aza's connection to the missing man's son. Green's explication of Aza makes us care enough to want to understand mental illness. G/DC/SN, BC
The Best YA Debut Novel of
2017:
A List of Cages
by Robin Roe
A List of Cages
is a gripping debut that will have you holding your breath as you fly through the pages. Adam is one of the most popular kids in school. Julian isn't. But Adam, a senior, has a connection to weird freshman Julian. Julian lived with Adam and his mother in a foster care situation after Julian's parents died, then Julian's uncle showed up and took him away. What's happening at Julian's house? Why does he miss so much school? What's happening with Adam's friends? DC, Ages 13 and up
The Best YA Novel for Tweens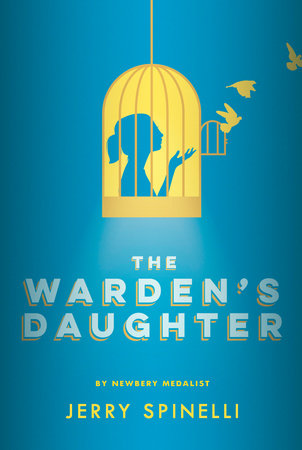 The Warden's Daughter
by Jerry Spinelli
The Warden's Daughter
is a spirited ode to grief as suffered by a twelve-year-old "tough" girl who lives in a large jail and who wishes Eloda, the trustee who cares for her, her father, and their apartment, could be her mother. It's set in 1959 in Two Mills, PA, the setting of Spinelli's Maniac Magee. Spinelli continues to capture the way kids act and thus he grabs and holds their attention. The twist at the end of this marvel is poignant and powerful. There are so few good books for this age group that don't involve sex that it's even more of a wonder. DC/PP Ages 10–14
The Best YA Book for "Girls:"
Girl Up
is brilliant, bold, profane, sarcastic, and just what teenage girls and young women deserve to have in their corner. If you're a parent, teacher, counselor, or just someone who cares about the future of girls, read this book. The "f" word, slang words for genitalia, and some statements and drawings may bother some adults but it isn't for them; it's for teens. My full review is here.
DC/SN/S Ages 13 and up
Top Photo Credit: http://blogs.overdrive.com/library/2014/04/14/teenreads-presents-ultimate-reading-list/