This morning I perused one of my grandmother's well-worn cookbooks. This slim paperback published in 1947 by "The Golden Band Class of the Brown Street Methodist Church" in Lafayette, Indiana, is simply titled
Favorite Recipes.
In it I found Mrs. W.B. Sanders' recipe for Persimmon Pudding, Mrs. Kenneth Forbes' guidelines for preparing "Supreme of Old Hen," Mrs. John Kalberer's enticing instructions for Pork Fruit Cake, and Miss Ida Fluck's for Cream Caramels. I imagine many stories being told around the table as families sat down to eat these treats (two-thirds of the book is devoted to sweets). There was no recipe for pigeon pie as it wasn't often served after the demise of the passenger pigeon in the late 1800s and these recipes as well as the names of their contributors (listed by husband's first name if married) reflect their time in history.
Making events of the past evocative of their period isn't an easy task. That may be one of the reasons why good historical fiction is so popular. Combining history with a captivating narrative and compelling characters appeals to our desire to learn about the past while enjoying a "good read." My choices for the best historical fiction novels of 2015 (defined as fiction set at least fifty years ago) are:
·
Circling the Sun by Paula McLain
·
Little Women in Blue by Jeannine Atkins
·
Miss Hazel and the Rosa Park League by Jonathan Odell
·
The Nightingale by Kristin Hannah
·
Orhan's Inheritance by Aline Ohanesian
·
Some Luck by Jane Smiley
·
White Collar Girl by Renee Rosen
I also recommend two books published previously that I enjoyed this year:
·
Mary Coin by Marisa Silver (2013)
·
The Wind is Not a River by Brian Payton (2014)
Historical fiction fans will also relish a hybrid novel set both in the past and today:
·
The Mapmaker's Children by Sarah McCoy
The Best Historical Fiction (Pigeon Pie) Novel of 2015:
Circling the Sun
by Paula McLain (Read the full review here.)
Circling the Sun
inhabits the early life of aviator Beryl Markham so astutely that it should prompt readers to immediately seek out Markham's memoir, West with the Night, to learn the rest of her story. McLain, best known for her novel The Paris Wife, captures Markham's childhood and early adult years honestly and compassionately.
Lions, poisonous snakes, planes, love affairs, and fine writing offer a view of a woman who did things 100 years ago that few of us would attempt today. It's pure delight.
Little Women in Blue is an enchanting novel that embeds the reader in the life of Louisa May Alcott's sister May. May, an accomplished artist and a contemporary of Mary Cassatt and Berthe Morisot, comes alive in Technicolor in this delightful tale.
Lum
is a captivating novel about outsiders, race, a little-known part of our history, and the power of self-acceptance and resilience. Lum portrays the people of rural Virginia's mountains during the Great Depression when the new Blue Ridge Parkway both threatens farmland and offers opportunity. Lum, a 33-year-old woman with an intersex condition, lives with relatives and is treated as a servant, but when the Parkway comes, the life of this engaging woman who seems to have no place of her own, soars. Ron Rash, Lee Smith, and Wiley Cash readers will love this debut Southern voice
Miss Hazel and the Rosa Park League
by Jonathan Odell
Miss Hazel and the Rosa Parks League
(A new rendering of The View from Delphi), is similar to The Help in its portrayal of 1950s women in a small Mississippi town. Miss Hazel is more realistic and shows the part African-American maids played in the civil rights struggle. Hazel is white, privileged and has "issues." Vida is black, poor, and ignored since her father is no longer the darling of the elite. Both have lost a child and when Hazel's husband hires Vida to care for his surviving son and to watch the ailing Hazel, the women end up changing their community. Based on Odell's life, it rings true
The Nightingale
by Kristin Hannah
(Read the full review here.)
The Nightingale
is a World War II story that goes beyond the usual rehashing of history. "In love we find out who we want to be; in war we find out who we are." Hannah's tale of a young woman who led many soldiers out of occupied France along with the stories of women who saved Jewish children and hid downed airmen reveals what people can do to survive. If you don't shed a tear or two at the end, you might need a new heart.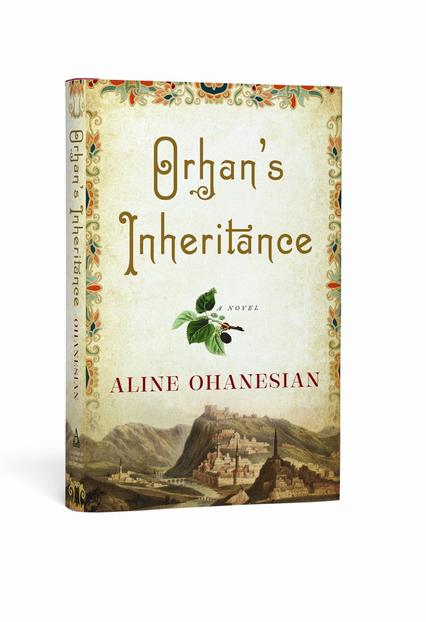 Orhan's Inheritance
by Aline Ohanesian
(Read the full review here.)
Orhan inherits a family business in a small Turkish village. He soon learns of its connection to an 87-year-old Armenian woman living in a California retirement home. Orhan's Inheritance is a powerful novel of love, loss, war, and denial. Ohanesian makes unpalatable subjects captivating by sharing the lives of caring, compassionate people who did what needed to be done in untenable times. This is a perfect novel for book discussion groups.
Some Luck
tells one family's distinctly American story from 1920 through 1953. It's the first installment in Smiley's "hundred years" trilogy. Each short chapter covers one year and those years show the birth of children and grandchildren, the depression's effect on farm families, losses in war, and the different manifestations of love. The title is stated on Walter and Rosanna's first child Frank's birthday when his Granny replies to his father's remarks about his birth. "That was a piece of luck Walter," said Granny. "But what would we do without some luck after all." And there is some luck involved as family members die or survive incidents that could have ended either way. I love the distinct personalities of the children and enjoy Rosanna's take on them. I've heard readers bemoan the absence of the great "linear" novel, one that tells a fine story without convoluted lapses into other realms. Here it is friends and it's a winner.
White Collar Girl
by Renée Rosen
(Read the full review here.)
White Collar Girl
captures 1950s Chicago life and politics under the new Daley machine. Jordan Walsh is a young reporter for the Chicago Tribune who yearns to escape the "society" pages for real news especially the graft and corruption of the city. Her boyfriend is jealous of her success, she gets little support from her family, and her inexperience causes her to make some consequential errors. Chicagoans will devour this as they revisit Riccardo's, the Berghoff, and other places Rosen evokes perfectly.
The Best Historical Fiction Novel I Read in 2015 that was published in 2013:
Mary Coin
is a page-turning story based on Dorothea Lange's iconic "Migrant Mother" photograph. Silver bases characters on Lange, another photographer, and an imagining of the mother in the photograph. Silver's experience and training as a film director and short story writer make this a colorful story in which each person's story adds to the whole. There's so much to discuss about ethics, art, women, poverty; it's a must for book clubs and precipitated one of the best discussions I've ever led.
A Fine Historical Novel I read in 2015 that was published in 2014:
Journalist John Easley is trapped behind enemy lines during the Japanese invasion of Alaska's Aleutian Islands during WWII. His wife Helen joins the USO and heads to Alaska to find him. This is both a beautiful love story and a tale of the horrors of war. Great descriptions and a haunting story will appeal to men and women. As is often the case with historical fiction, it highlights something most Americans didn't know – that part of Alaska was held by the Japanese during World War II.
A "Hybrid" Novel set today and in the 1800's:
Eden, who's tried to conceive for years, discovers a porcelain doll's head in the root cellar of her home. This leads to the story of abolitionist John Brown's daughter Sarah who hid Underground Railroad maps within her paintings. The interweaving of their stories offers new definitions of bravery, family, and love.